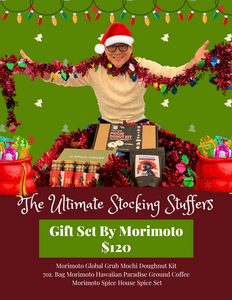 Introducing the Morimoto Stocking Stuffer Bundle 
Unwrap the Morimoto Mochi Donut Kit by Global Grub, a delectable DIY delight that lets you craft chewy, and flavorful mochi donuts in the comfort of your kitchen. Family fun on Christmas day!
Pair those scrumptious treats with our 7oz bag of Morimoto Ground Coffee by Hawaiian Paradise - a rich and aromatic blend that will elevate your mornings to a whole new level. 
To complete your culinary adventure, season your dishes with the Morimoto Spice Set by Spice House, a handpicked selection of Chef Morimoto's favorite spice blends to add that extra layer of flavor to your creations.
Indulge in the artistry of Chef Morimoto's creations and savor the unique flavors. Make this holiday season unforgettable with the Morimoto Stocking Stuffer Bundle!
Every 100th buyer will receive a random prize!!